Nashville, Tennessee
Nashville Navy Show - Limelight
Durango Room Show - Music City Center
Friends Fest - Hermitage House Smorgasbord

Date: June 3 - 6, 2014

Photo Credits: Sherri Cox, Helen Neal and Cathleen Reed
| | | |
| --- | --- | --- |
| | A busy week for Wade. Here are highlights. | |
| | | |

Always a good show with quite a cast. Usually 5 or more on the stage at one time. Works like a songwriter's round with each artist singing one song each turn. The last round of artists, the all-star round, was on-stage for a couple of hours this year. A welcome change from previous years when this round had time left for only 2 songs each. The round included Trent Willmon, Keith Anderson, Chad Wilson, Danielle Peck, Ray Scott, Wade Hayes.
Wade's songs included Old Enough to Know Better, Go Live Your Life. On a Good Night, Love Knew Better, The Day that She Left Tulsa.
At one point Wade led an All-Star jam with cancer patient, Robin on the harmonica. The group did Whiskey River and I Think I'll Just Stay Here and Drink. A very touching performance.
Wade, along with Megan Mullins on the fiddle, entertained a standing room only crowd at the Durango stage in the Music City Center. Following the set, Wade went to the WSM-AM 650 booth to meet and greet. There was a long line waiting for him.
More pictures at woww-pics site.

WSM-AM 650 archived the Durango show. You can listen to it here:

2014 Durango Show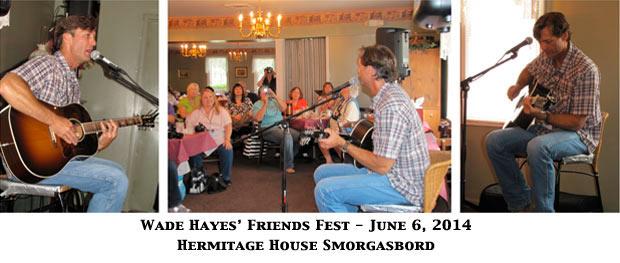 A new site for Friends Fest this year. Our old location was sold. There were some pluses in the move - especially available parking. The room was very spacious and comfortable. Wade was in fine form for the music set:

What I Meant to Say, Love Knew Better, Blue Bonnet Blues (the new swing tune he's written), On a Good Night, Empty Glass, Right Where I Want You, Don't Stop, Go Live Your Life and Old Enough to Know Better.


June 2014 in Nashville, Tennessee