Good venue and an enthusiastic crowd. Michael began his section of the show with pics and narrative on tours he'd taken to perform for military personnel. He did his hits and some cover songs as well as a good rendition of I'm My Own Grandpa.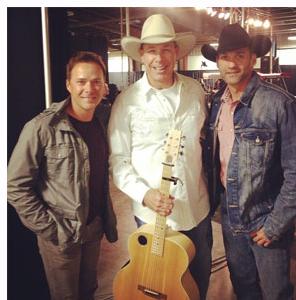 Wade performed, Good Day to Go Crazy and On a Good Night before remarking that he'd had a long face all day. The fiddle player had broken his collar bone and couldn't make the trip. Wade was unable to secure another one at the last minute. He continued with The Day that She Left Tulsa, Don't Stop, Go Live Your Life, I'm Still Dancin' with You, and Old Enough to Know Better. Many crowd members were singing along with him. As they were for Bryan White singing, Look at Me, Ring Around the Rosey, I'm Not Supposed to Love You Any More and others.
To close the show all 3 came together on Glen Campbell's Wichita Lineman and Steve Wariner's Linda.