It's all about the music. Whether you're in the mood to listen, dance, dream or go honky tonking, you'll find wonderful resources in Wade's recordings. To learn more about each album - track titles, album notes, reviews - click on the picture.
Scroll down for a list of the song titles in alphabetical order.
Place to Turn Around

2009 Release

SOLD OUT
| | | |
| --- | --- | --- |
| | Single Tracks | |
| | | |
"Wichita Lineman"
single release - not available
"It Doesn't Mean I Don't Love You"
single release as McHayes -

Available at iTunes and Amazon.com
"Ida Red"
(with Tracy Byrd)

For MP3 Downloads of individual tracks or albums
link to Amazon.com
That NashvilleSound.com, included this album in its list of the top 10 albums of 2009. "6. Wade Hayes- Place To Turn Around- With an emotive voice and meaningful storytelling lyrics, this is country music that is getting very little representation on the radio dial. What might have not been that unique in the 80's and early 90's is fresh and new. Hayes' emotive baritone voice is a bit throaty and breathless when he sings higher notes or with power. But that so-called-fault in his voice only gives the songs more emotion and feeling. On songs like "Every Time I Give The Devil A Ride" and "Good Day To Go Crazy," we're reminded what a great guitarist and underrated instrumentalist that Hayes has always been. This was the most underrated album of 2009 for sure."
Their review of the album - "an unexpected gem!"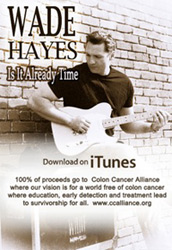 Is It Already Time, is a powerful single, about Wade's very personal story. He exposes the deep emotions he felt upon learning that he had cancer.
He had a lengthy surgery December of 2011, followed by 6 months of chemotherapy to treat Stage IV colon cancer that had spread to his liver.
At this point in time, all the tests indicate that he is cancer-free.
All proceeds from the single will benefit the Colon Cancer Alliance.