It's all about the music. Whether you're in the mood to listen, dance, dream or go honky tonking, you'll find wonderful resources in Wade's recordings. To learn more about each album - track titles, album notes, reviews - click on the picture.
Click here for a list of the song titles in alphabetical order.
1. Go Live Your Life

2. Love Knew Better

3. Bluebonnet Blues

4. She is Home

5. Wrecking Ball

6. Here and Her

7. Let You Go

8. Remember the Alimony

.9. Old Dirt Road

10. If the Sun Comes Up
"Wichita Lineman"
used ones available on Amazon.com
"It Doesn't Mean I Don't Love You"
single release as McHayes -

Available at iTunes and Amazon.com
Old Enough to Know Better

On a Good Night

When the Wrong One Loves You Right

Highways & Heartaches

Place to Turn Around

Go Live Your Life

Single Tracks

Wade Hayes Discography
About Wade's 6th studio album, Go Live Your Life
One reviewer commented, "Another one written and delivered to perfection by Wade Hayes! The entire album is one that will stretch your emotions to the limit--you will laugh, you will cry, and get chills down your spine. A must have for anyone that loves REAL country music!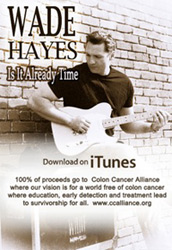 http://www.amazon.com/gp/product/B00TQJI62U/ref=as_li_qf_sp_asin_il_tl?ie=UTF8&camp=1789&creative=9325&creativeASIN=B00TQJI62U&linkCode=as2&tag=wahafasi-20&linkId=BL2RRLKDOUE6333U