..
Wade's newest album, Old Country Song, is featured in Track by Track on Centerstagemag.com
.
In an intimate interview setting, in his home, Wade gives the back story for each track on his current album, Old Country Song. He reveals the inspiration and side notes for each cut. Wade draws on friends who are stellar musicians to work the project, including Kevin Key on guitar, Megan Mullins on fiddle, Dink Cook on bass and Dave McAfee on drum. The group performed "Julia" and "I Wish I Still Drank." Filmed by Tommy Lemon and Melissa Wolfenbarger, owners of Center Stage Magazine, the complete broadcast can be seen on YouTube.
Look for Track by Track.
Photo by Center Stage Mag
---
..
Bethel Acres Friends Day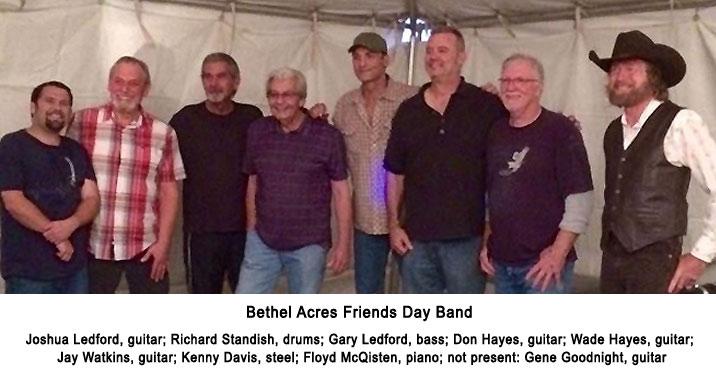 You've got to love a small town, especially one with the musical heritage of Bethel Acres!

And before the music begins, sit down to a delicious fried chicken dinner, made ready by Don and Belinda Stapp. Then move on to the pavilion.
While many sat to enjoy the music, young girls turned cartwheels in the outside grass and young boys threw footballs. And under the canopy sheltering the Bethel Acres Friends' Band, 9 stellar musicians entertained the crowd. And you realize as you watch and listen, that this band grew from the days when families made their own entertainment. Through that channel, a musical heritage was passed down. Two father-son duos on stage, Gary and Joshua Ledford and Don and Wade Hayes. Friends from Junior High and High School were among the 60 plus year olds. Incredible to take it all in. The music, ranging from Urban, Waylon, Vern, Watson, Seals, Stewart … to lots of Merle, was all crowd-pleasing. The City Council voted a new name for this first Saturday in October - it's now Don Hayes Day - a tribute to his many years of making this musical treat happen.

Looking forward to 2018!
Photo by Sandy Cochrane-Thornberry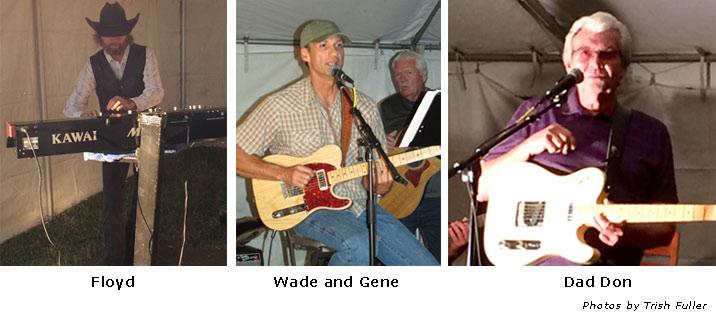 ---
..
Wade guested on the Grand Ole Opry on these dates in 2017: January 27, March 18, April 6 (Country Classics), May 5, June 1, June 27, July 28, August 12, October 26 (Country Classics).
On each show, he performed within the first forty-five minutes. You can listen at the Opry Archives.
Pics from backstage - with Restless Heart and a selfie in the mirror.
---
..
Wade Supports the Colon Cancer Alliance and its UNDY 5K Race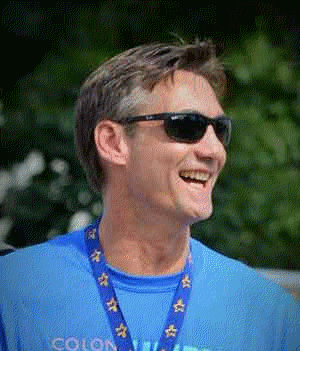 Before he ever knew he had colon cancer, Wade supported the CCA (Colon Cancer Alliance) with his appearance at a benefit concert for their Blue Note Fund. The fund is used to raise awareness and fund services for people with advanced colorectal cancer. He made another appearance at a later benefit while undergoing his first round of chemo.
During that round of chemo, he wrote, recorded and made a video of "Is It Already Time?" All proceeds from the audio downloads go to the Colon Cancer Alliance. The video is on YouTube. Subsequently, when his primary oncologist, Dr. Jordan Berlin, disclosed that he was cancer free, Wade took the cue from Dr. Berlin to "Go Live Your Life." That provided inspiration for Wade to write the song that has become his anthem and the title track of his recent album.
Wade supports the UNDY 5K, a 5K run or a 1 mile walk that benefits the CCA. This year's event will be held August 5, starting at 8 am at the Shelby Bottoms Greenway. Registration begins at 7. The scenic race course runs near the river, a delightful spot for the event.
https://goo.gl/maps/hYmBEe3yjFv
TEAM WADE honors Wade in its efforts to participate in the race and promote the mission of the CCA by securing donations.
To join the team or make a donation, go to this site:.
http://support.ccalliance.org/site/TR/5K/UndyNEW?team_id=45040&pg=team&fr_id=2356
---
..
Country Hits Back benefit concert for Vanderbilt Ingram Cancer Center
A great success! That's the opinion of everyone who attended the "Country Hits Back" show at the Franklin Theatre on March 2. Wade Hayes pulled together an evening of stellar musicians to benefit a cause that is dear to his heart, the Vanderbilt Ingram Cancer Center.
Featured artists were Steve Wariner, Kix Brooks and Miranda Lambert. Wariner is one of Nashville's premier "pickers." Chet Atkins designated him as a CGP, one of his few Certified Guitar Players. What a treat to have him playing and singing his hits and jamming with Wade on stage. Brooks, half of the renowned due Brooks and Dunn, delighted the audience with his humorous stories (in addition to his playing and singing). It was a real coup to have Lambert, six-time CMA and ACM Female Vocalist of the Year, performing an acoustic set.
As usual, Wade assembled a group of great musicians for the backing band. Kevin Key (guitar), Steve Peffer (keyboard), Dave McAfee (drums), Dink Cook (bass), Megan Mullins (fiddle). One of the performers on the on the Country Music Cruise aptly named them Wade Hayes and the All Star Band. A magnificent group.
The Franklin Theatre is a great venue - good sound and comfortable seating. The audience was a mix of country music fans and Vanderbilt personnel. It didn't take the audience long to realize what a musical treat they were witnessing. Applause was long and loud and often. Wade's "Go Live Your Life" brought them to their feet.
Proceeds were earmarked for the VICC GI Oncology Program, specifically the SPORE team (Specialized Program of Research Excellence). This team works to translate lab research into effective treatments for patients, a bench-to-bedside approach. Wade Hayes' success in beating Stage IV Colon Cancer is a testimony to this program.
If you'd like to donate to the SPORE team, click on this link which is tied into the Wade Hayes Benefit Concert.
https://webapp.mis.vanderbilt.edu/olga/pub/landing?appealCode=1014A
---
..
Fans Support Wade's Charities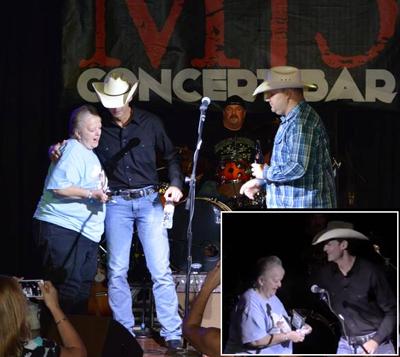 Connie Womack presented Wade with a check for the Colon Cancer Alliance Blue Note Fund. She was the winner of the charity auction of a collection of Wade videos.
---
..
Appearance on Larry's Country Diner
Wade recently appeared on Larry's Country Diner show on RFD-TV. Recently seen on Saturday, September 5th and Sunday September 6th, it will re-air on Saturday, January 30th (10 pm CT) and Sunday January 31st (6pm CT). Thanks to Treasa Brookman for the photos.

---
..
A Very Busy Week-end in St. Louis with the Colon Cancer Alliance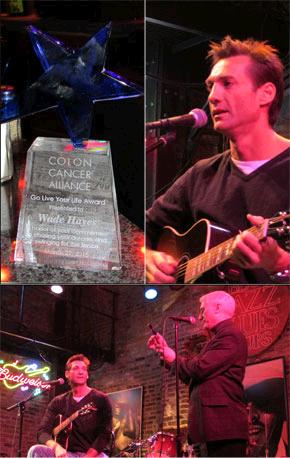 Wade played a benefit on Friday evening, the 27th of March. He was the surprised recipient of a special presentation.The presenter remarked, "So proud to honor Wade Hayes with the first annual Go Live Your Life award tonight. We are so grateful for his continued dedication to spreading awareness, and more importantly, spreading hope." The trophy given by the Colon Cancer Alliance read "In honor of your commitment to chasing your dreams and swinging for the fence. How fitting for him, and as an inspiration for others..
He also made appearances on a couple of television stations, as well as working with the UNDY 5K Race/Walk held on Saturday morning.

Photo Credit: Trish Fuller
---
..
The Go Live Your Life Campaign
It doesn't show on his tour page, but Wade has been busy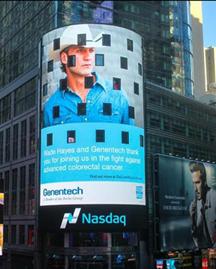 at many private events. Genentech, the pharmaceutical company sponsors him to speak at medical conferences and other events where hearing the story of his battle with Stage 4 colon cancer has a receptive audience. His new anthem, Go Live Your Life receives accolades. In a recent week, he's been to Arizona, New York and New Jersey. The New York visit featured his picture on the Times Square screen.
Genentech is also very active in promoting Go Live Your Life. For every iTunes download, they will contribute $1 to the Colon Cancer Alliance Blue Note Fund.
For more information go to
---
..
Wade on Country's Family Reunion TV Show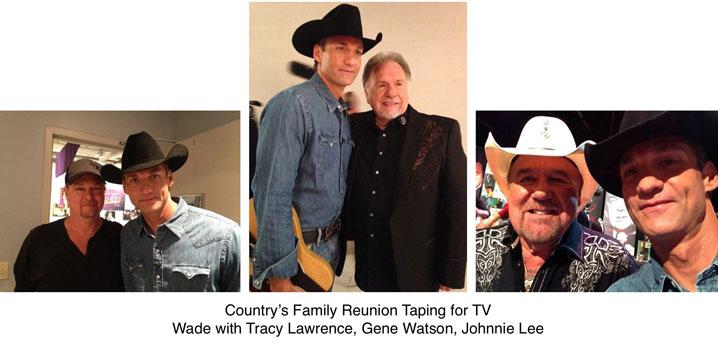 Wade is working with the Country's Family Reunion crew and cast for 2 sessions. One is a tribute to Ray Price. The other is a tribute to honky tonk music. And Wade says, "Just happens to be my kinda music!!"
Country's Family Union (CFR) is a much loved weekly show that features traditional country musicians sharing their songs and stories. The shows will air on RFD-TV on Friday evening (7 pm Central Time; re-run on Saturday at 5 am and 11 pm.Monday at 12:30) Exact date is not know.
It is truly a reunion for Wade. He toured with Tracy Lawrence. Gene Watson is one of the major influences on his music. And when Wade first came to Nashville, Johnnie Lee gave him a job as a performer at Gilley's.
DVD recordings are available for purchase. If you order before December 1, you are guaranteed to have them by Christmas.
These shows are taped over an entire day. A taping is then edited into 1 hour TV shows for the RFD-
TV network and made available for purchase in a multiple DVD set. Wade participated in two days of tapings - A Tribute to Ray Price and Honky Tonk Reunion. He felt that he might not be included on the Ray Price tribute because when it came his turn to sing "Heartache by the Numbers" his mike was off. I guess we'll know when we watch the shows. They are taking pre-orders for the DVD sets. If you order before December 1 you are assured of getting the DVDs by Christmas.
Here is order info for both albums: $119.80 plus $16.95 s/h + 136.75
You can call in an order to 800-820-5405 or send your check to
CFR Videos, P O Box 210709, Nashville, TN 37221
Currently, 11/27 - There is no information on this show - either on the RFD-TV schedule or in the Country's Family Reunion store.
---
..
Wade Hayes - Musician and Cancer Survivor
Wade tells his amazing, miraculous story of being a cancer survivor, having been diagnosed with Stage IV Colon Cancer in 2009.After several surgeries and 2 rounds of chemo, his latest blood tests and scans show that he is cancer free.
The pharmaceutical company that produced his chemo has engaged him as a representative to share his story and his song at varous professional conferences, classes and seminars. They've kept him busy. This link is to a conference recently held in Washington D.C.
Wade doesn't like singing his original cancer story song, "Is It Already Time?" He says it is "too sad."The video can be seen on Youtube. You can still downloaded it at iTunes. all returns go to the Colon Cancer Alliance.
In this You Tube video, the final song is Wade's anthem for life. The song is based on a comment by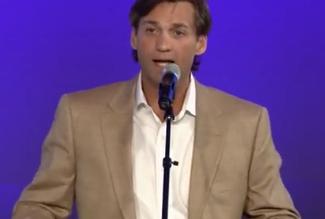 his oncologist. On the day that tests showed that Wade had moved from being a cancer victim to being a cancer survivor, Dr. Berlin advised him, "Go live your life."
Video - Wade Hayes - Musician and Cancer Survivor - Washington, DC
---
In October, Wade spoke at the
American Society of Clinical Practioners (ASCP) Conference
in Tampa, Florida
This video is also approximately 20 minutes long.
---
..
Wade was the guest speaker and entertainer at a significant event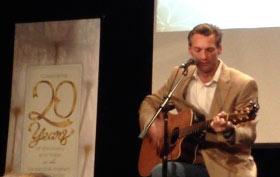 -- the 20th Anniversary of the Vanderbilt Ingram Cancer Center. Wade was introduced by his oncologist, Dr. Jordan Berlin, the lead doctor on Wade's chemotherapy team. Dr. Berlin told the crowd that he was inspired by his patients and Wade was one of the most inspiring. Plus, said Dr. Berlin, "He's so nice, I'd like to send him to Congress."
Wade played, "Is It Already Time?" his song seeking answers when he learned that he had Stage IV colon cancer. He then stepped to the podium and told the story of his cancer journey to a packed house of cancer patients and survivors, their families and friends. He closed the event with a passionate performance of his latest song, "Go Live Your Life."
---